Product Description
BWL5-20 LED T5 Integration Tube Light is efficience. Change all the electric energy into luminous.
No ultraviolet (uv) light: BWL5-20 LED T5 Integration tube light without ultraviolet ray, it's different from the traditional lamps, there will not be lots of mosquitoes around the lamp source and keep indoor clear.
Traditional tube light contain lots mercury vapor, if it broke, mercury vapor will evaporate into air, and will be harmful to human health.
BWL5-20 LED T5 Integrationtube light convert AC directly into DC, there is no flicker, ensure that the light is soft and protect eyes.
Quiet and comfortable, no noise.Suitable for the library and office.
Service life is up to 50000 hours, if you light up 8 hours/day, it can work for 17 years.
Features
Integration Structure, Safe and Convenien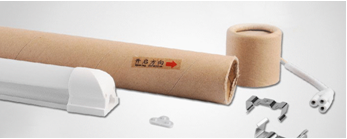 Three hole plug line corresponding received fire from the Live wire, Null wire and Ground wire. It makes our daily life become safer and much more convenient.
Application
| | |
| --- | --- |
| | |
| Mall | Factory |
| | |
| Office | Under Garage |
Quick Details
Brand
BWL
Product Name
BRIGHT MOON
Input Voltage(V)
AC220V-240V/50Hz,60Hz
Driver Power
Stable high efficiency power supply with constant current
Lens Function
High light transmittance of transparent PC lampshade
Install style
Ceiling type/Suspender
CCT Option
Warm White/( 3000K)

Nature White/(4000K)

Pure White/( 6000K)

Wattage Option
9W/13W/18W
Shell Appearance
Farblos eloxiert
HeatSink Technics
Aluminum Extrusion Molding
Shell Material
High thermal conductivity of 6063 aluminum
Lens Option
Milky white or transparent PC cover
PRODUCT OPTION
Order Number
Power(W)
CCT(K)
Output Lumen(lm)
Angle
Shell
Product Size(mm)
Weight/kg
Qty/Ctn(PCS)
Carton Size(mm)(L*W*H)
BWL50917720
9W
Warm White/3000K
1000
180°
Farblos eloxiert
26*600
0.08
25
650*250*250
BWL51317720
13W
Warm White/3000K
180°
26*900
0.08
25
950*250*250
BWL51817720
18W
Warm White/3000K
2200
180°
26*1200
0.08
25
1250*250*250
Order Number
Power(W)
CCT(K)
Output Lumen(lm)
Angle
Shell
Product Size(mm)
Weight/kg
Qty/Ctn(PCS)
Carton Size(mm)(L*W*H)
BWL50927720
9W
Nature White/4000K
1000
180°
Farblos eloxiert
26*600
0.13
25
650*250*250
BWL51327720
13W
Nature White/4000K
180°
26*900
0.13
25
950*250*250
BWL51827720
18W
Nature White/4000K
2200
180°
26*1200
0.13
25
1250*250*250
Order Number
Power(W)
CCT(K)
Output Lumen(lm)
Angle
Shell
Product Size(mm)
Weight/kg
Qty/Ctn(PCS)
Carton Size(mm)(L*W*H)
BWL50937720
9W
Pure White/6000K
1000
180°
Farblos eloxiert
26*600
0.18
25
650*250*250
BWL51337720
13W
Pure White/6000K
180°
26*900
0.18
25
950*250*250
BWL51837720
18W
Pure White/6000K
2200
180°
26*1200
0.18
25
1250*250*250