Product Introduction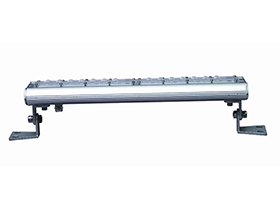 (1) Lamps and lanterns has the characteristic of moisture proof, corrosion resistant, anti vibration performance, safe and reliable, convenient maintenance;
(2) After the lamps and lanterns is installed in the tunnel wall, not invade the basic clearance;
(3) The lamps and lanterns of electrical components used in moisture, without explosive, refractory and flame retardant products;


(4) For IP68 protection grade of lamps and lanterns.
(5) The light distribution of lamps and lanterns should be suitable for the characteristics of the tunnel is long and narrow light area, and satisfy the intensity of illumination requirements and no glare.
(6) The structure of lamps and lanterns (shell) by the strong and durable, and can absorb a certain amount of mechanical stress, electric stress and thermal stress of high quality aluminum alloy die-casting, its compact structure, small volume, light weight, good heat dissipation conditions and aesthetically pleasing.Appearance by pensu processing, good corrosion resistance and anti-aging performance;
(7) Reflector made of high purity aluminum molding, the electrolytic polishing, oxidation treatment, reflectivity rho > 0.9, satisfy the requirement of the tunnel is long and narrow space with the light;
(8) The lamps and lanterns is pervious to light cover can tolerate 110 ℃ high temperature, high strength, impact, transmission rate of not less than 80%, large longitudinal optical Angle are surface pervious to light glass steel processing production, combined with lamps and lanterns of the shell surface of silicone rubber sealing, heat resistance, ageing resistance superior performance;
(9) Set up independent damping device of lamps and lanterns, shock absorber can meet the lamps and lanterns is installed in the tunnel wall with different vibration source, the prop, the tower and on the steps.Vibration source through the flexible damping and absorption of shock absorber, make its rapid attenuation of amplitude and frequency, thus ensuring the firm installed and the normal lighting light source of lamps and lanterns, avoid the lamps and lanterns in vibration environment may cause the damage of the light source and electrical appliances, or maintenance workload increase;
(10) Applies to all kinds of lamps and lanterns shape tunnel wall installation, lamps and lanterns illuminate Angle can be adjusted freely according to the design and the actual light distribution requirements, can achieve the desired lighting effect;
Basic Information
| | |
| --- | --- |
| Model | BWL-SFL-*** |
| Input Voltage | 90-305VAC/50/60Hz |
| Power Factor | PF≥0.98 |
| Power Efficiency | ≥90% |
| Power | 20W、30W、40W、60W、90W |
| Luminous Efficiency | 120-140lm/W |
| Color Temperature | 3000-4500K、5000-6500K |
| Color Rendering Index | Ra≥72 or Ra≥80 |
| Service Life | 50000 hours |
| Waterproof Rate | IP65 / IP68 |
| Shell | Aluminum+PC |
| Heat Sink | 6063 Aluminum |
| Beam Angle | 60*135° |
| Surge Protection | 6KV Lightning Surge Proof Voltage |
| Working Temperature | 40℃≤Ta≤60℃ |
Technical Standard
In line with the ministry of railways industry standard TB/T2796-1997 railway tunnel fixed lighting technical conditions and related technical requirements of the high-speed railway tunnel lighting.
Using Environment
1) The highest temperature: + 60 ℃;
2) Low temperature: it is to 40 ℃;
3) Concentration of sulfur dioxide (SO2) : > 30 mg/m3;
4) Five concentration of chlorine oxidation (N205) : > 100 mg/m3.
5) Altitude: 3000 m;
6) Can inherit the wind: 90-120 m/s.
Application
Extensively applied in the train speed in 200-400 km of high-speed railway tunnel, bridge, culvert road, railway tunnel, road tunnel, pedestrian passage, metallurgical, power plants, substations, garage, factory, railway station,parking lot lighting, etc….
Technical Data
| | | | | | |
| --- | --- | --- | --- | --- | --- |
| Model | Power | Lumen | CCT | Weight | Dimensions( L*W*H) |
| BWL-SFL-20/30 | 30W | 4200 | 2000-6500K | 1kg | L454*W85*H98 |
| BWL-SFL-40/60 | 60W | 8400 | 2000-6500K | 1.3kg | L634*W85*H98 |
| BWL-SFL-60/90 | 90W | 12600 | 2000-6500K | 1.6kg | L804*W85*H98 |
Design Innovation, Cost-Performance