Product Description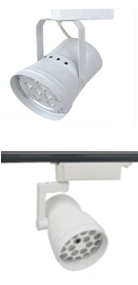 1.LED Track light is high effciency and energy saving. Energyconsumption of BWL7-22 just cost 1/10 compared to incandescent bulbs, and saving 3/4 electricity than energy-saving lamp.
2.LED track light life can reach more than 50000 hours, the average household lighting is "once and for all."
3.LED track light can work at high speed, despite frequent start or shut off, will not black or broken filament.
4.LED track light is very easy to transport and install , it can be install in any tiny or confined spaces, and don't worry the vibration or heat dissipation.
5. LED track light is environmental protection, no mercury, lead or any other hazardous substances. And the assembling parts can be easy to assemble or unassembled, recycled convenient.
Advantages
Safety: BWL7-22 LED track light adopt car aluminum shell,you can put in home, warehouse. LED track light is impact resistant and will not damage in transit, compared with the traditional light bulb's glass vacuum structure, the safety performance of BWL7-22 LED track light has enhanced greatly. In addition, the LED track light adopts DC driver, no stroboscopic, it is good for your eyesight protection. Besides, it's no electromagnetic interference, while the electronic ballast of energy saving tube electromagnetic interference is serious. The advantages of LED track light is conform to the requirements of the people-oriented humanization, the consistent pursuit of the world's citizens.
Efficient: BWL7-22 LED track light uses the import LED lamp bead, high brightness, electro-optical conversion rate reaches 90%, and the little fever, while 80% of the electric energy transformed into heat energy, tranditional bulb can only 20% into luminous, so the LED track light can efficiently and considerate service for the owners.
Longevity: BWL7-22 LED track light is high power semiconductor, with a shelf life of up to 5 years in optional conditions. While the traditional lamp's life no more 1 year, the tungsten filament of the traditional lamp in the process of switch is easy to burn out, and can't get through the heat bilges and cold shrink. Obviously, the commercial use of halogen lamp expense the light's life for brightness, it's a fatal weakness of the traditional lamp. Then, LED track come into our daily life and be imperative to replace the halogen for commercial use.
Energy saving: BWL7-22 LED track light using the import high quality bead, ultralow and high brightness. It just 1/10 energy cost compared with normal lamp. It's obvious that BWL7-22 is environmental protection, perfectly make clear the concept of low-carbon electricity.
Application
| | |
| --- | --- |
| | |
| Mall | Indoor |
| | |
| Exhibition | In Public |
Quick Details
| | | | | | |
| --- | --- | --- | --- | --- | --- |
| Brand | BWL | Product Name | ELFIN | Input Voltage(V) | AC100V-240V/50Hz,60Hz |
| Driver Power | Stable high efficiency power supply with constant current | Lens Function | High light transmittance lens | Install Style | Ceiling type/Suspender |
| CCT Option | Warm White/( 3000K)Pure White/( 6000K) | Wattage Option | 9W/12W/15W/24W | Shell Appearance | White |
| HeatSink Technics | Aluminum Extrusion Molding | Shell Material | High thermal conductivity of 6063 aluminum | Lens Material | Quality PMMA |
PRODUCT OPTION
Order Number
Power(W)
CCT(K)
Output Lumen(lm)
Angle
Shell
Product Size(mm)
Weight/kg
Qty/Ctn(PCS)
Carton Size(mm)(L*W*H)
BWL70911122
9W
Warm White/3000K
650
30°
White
115*130mm
0.46
6
230*360*135
BWL71211122
12W
Warm White/3000K
850
30°
115*130mm
0.46
6
230*360*135
BWL71511122
15W
Warm White/3000K
1100
30°
115*130mm
0.46
6
230*360*135
BWL72411122
24W
Warm White/3000K
1800
30°
115*130mm
0.46
6
250*330*260
Order Number
Power(W)
CCT(K)
Output Lumen(lm)
Angle
Shell
Product Size(mm)
Weight/kg
Qty/Ctn(PCS)
Carton Size(mm)(L*W*H)
BWL70931122
9W
Pure White/6000K
650
30°
White
110*155mm
1.8
6
230*360*135
BWL71231122
12W
Pure White/6000K
850
30°
110*155mm
1.8
6
230*360*135
BWL71531122
15W
Pure White/6000K
1100
30°
110*155mm
1.8
6
230*360*135
BWL72431122
24W
Pure White/6000K
1800
30°
110*155mm
1.8
6
250*330*260